この記事は次の言語でも読めます: 日本語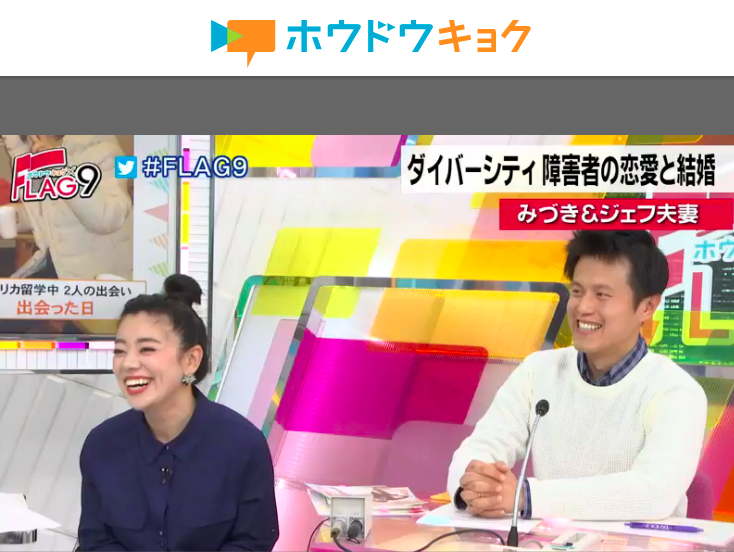 Hi, this is Mizuki! 
As I announced in my previous post,  Jeff and I were broadcasted in "Houdoukyoku", an online program of Fuji TV in Japan. 
On that day, there was a huge earthquake in Tottori, so the program director contacted me that our program might be postponed if another big aftershock occurs. 
Fortunately, it was ok after that.:) We were on the program as planned!
We talked about the easy-to-wear wedding dress that I wore for Co-Co Life magazine in the beginning, and shared some episodes of our relationship and marriage life.
I think we enjoyed talking about cultural differences (diet differences?) more than disability related topics. hahaha.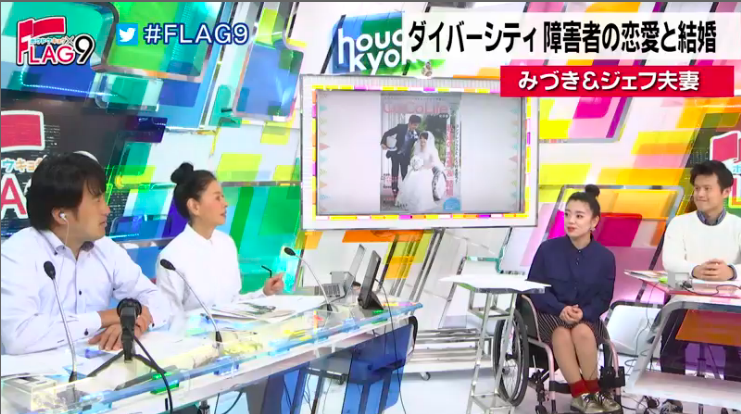 Jeff and I were surprised that we didn't do a face-to-face meeting with the program director and announcers in advance. (Only 30 minutes meeting right before the show!)
But we could talk in a relaxing mood during the show, thanks to the two professional announcers, Ms. Chiyo Abe and Mr. Tomoya Morishita. 
We really appreciate Fuji TV for this precious opportunity! We enjoyed and loved the show!
If you missed watching the program, you can watch from here. (Only Japanese available)
↓  ↓  ↓ 
In the same online program, Ayana Motoyama and Naoko Moriyama from Co-Co Life talked more about Co-Co Life magazine last month. If you are interested, please also check this one too!  
↓  ↓  ↓