この記事は次の言語でも読めます: 日本語
Hi!
It's Mizuki.
I have been continuing on advocating for disability rights and employment equality for people with disability by giving talks at one university, one NPO and one company while working full time. I have been very busy and at the same time feeling very lucky to have great opportunities to contribute to improving disability rights.
Moon Rider 7 Project has been interviewed and introduced in China Times, a newspaper in Taiwan.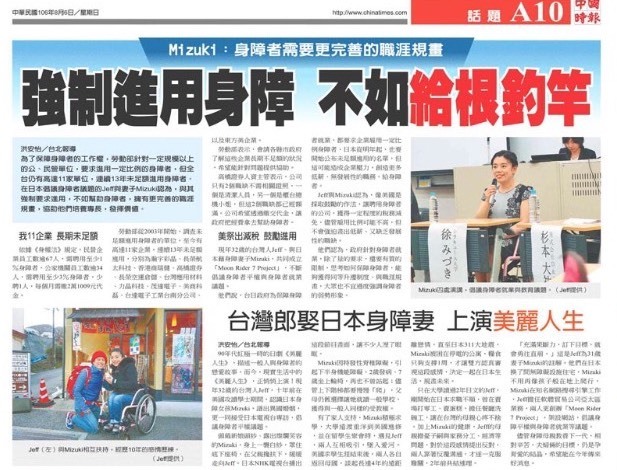 China Times released 2 articles.
One article was talking about quota system in Taiwan and cited my advocacy of improving employment quality and equality for people with disabilities. It may be viewed here: 強制進用身障 不如給根釣竿
The other article was a short summary of our love story in Chinese. It talked about the hard times we had overcome and how we did not let disability become a wall shutting love out. It may be viewed here: 真人版《美麗人生》 台灣郎娶日本身障妻 (Sorry that the articles are only available in Chinese.)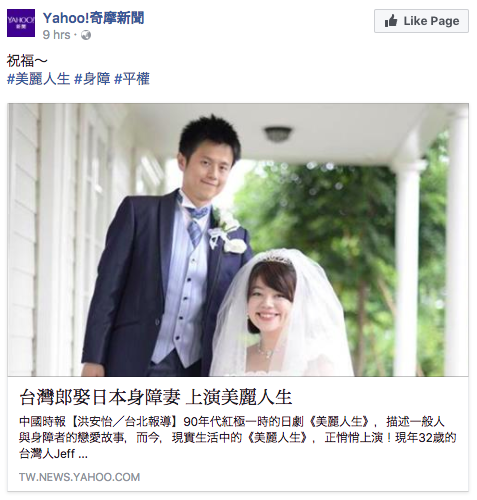 The love story article was also released on Yahoo! Taiwan.
We found out when our friends in Taiwan told us on SNS!
Thanks to all our friends's support so that we are able to continue on advocating of disability rights.
We will continue on advocating it for a better future!